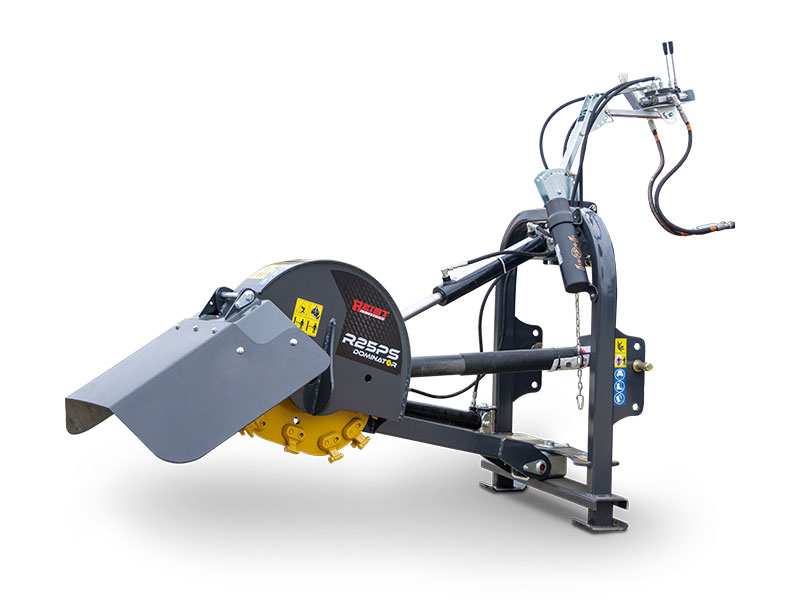 Videos

 Brochure

Stump Grinder - Swing Models
Take it for a Spin
Adding to its professional line of land management tools, Reist introduces the Dominator series of Stump Grinders including a direct drive and a swing arm model.
Reist's swing arm model utilizes a 25" rotor optimized to cut in one direction. Equipped with an adjustable flow control, the return speed of the arm can be adjusted to suit any operating condition or operators experience level.
The R25PS requires two remotes, one to adjust the height of the arm and one to swing it along its 55 degree arc. For tractors with only one remote, the R25PSV adds a valve on an ergonomically adjustable arm to control the hydraulic functions.
Compatible with Cat I & II 3PH's, Dominator stump grinders are also compatible with Quick Hitches. The frame incorporates two pads which provide firm footing on uneven ground eliminating deflection of the frame.
Stump Grinder Specs.
R25PS
R25PSV
Recommended PTO HP
25-80 HP
25-80 HP
PTO (input speed)
540 RPM
540 RPM
Rotor Size
25"
25"
Tooth Construction
Carbide Bolt into Pocket
(Indexable 3x)
Number of teeth
18
18
Cutting Wheel Speed
1,026 RPM
1,026 RPM
Cutting Height (above grade)
20"
20"
Cutting Height (below grade)
6"
6"
Cutting Depth (per pass)
2.25"
2.25"
Cutting Width (per pass)
22"
22"
Swing Arc
55°
55°
Protection
Slip Clutch
Slip Clutch
Hitch
Cat I & II
Cat I & II
Quick Hitch Compatible
Yes
Yes
Hydraulic Remotes Required
2
1
Hydraulic Valve Option
N/A
Yes
Weight (shipping)
950 lbs.
950 lbs.
Length (shipping)
42"
42"
Features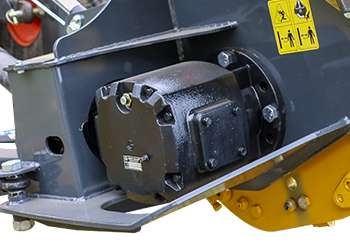 Gear Box
Three Point Hitch swing type grinders utilize 1:1.9 ration gear box accelerating the flange mounted rotor to 1,026 RPMs.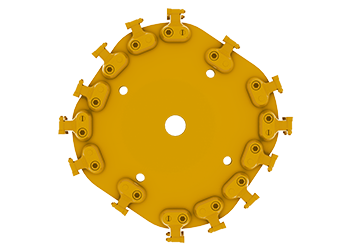 Rotor
The uniquely shaped rotor is flange mounted to the drive line. This allows for easy removal of the rotor should it be required for maintenance.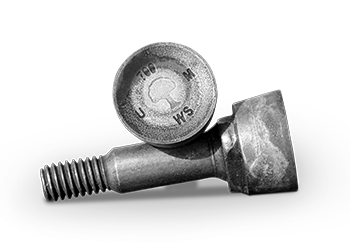 Carbide Teeth
Dominator stump grinders use Wearsharp® teeth. The round design of the tooth and a triangular base allows it to be indexed 3 times for extended life.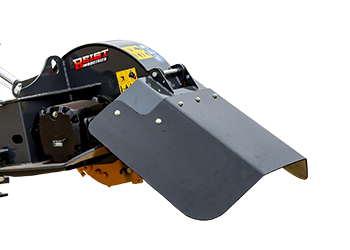 HDPE Deflector
Made with high density polyethylene, the deflector stands up to abuse regardless of the air temperature all while containing debris from the stump.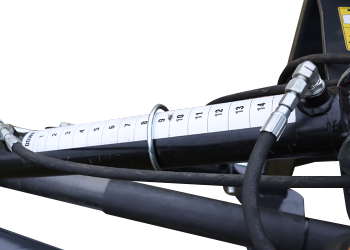 Cutting Depth Gauge
An easy to read gauge helps operators determine the cutting depth.
Options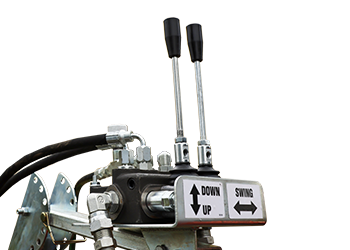 Hydraulic Valve
The addition of an optional valve on an ergonomically adjustable arm, provides both lift and swing functions for tractors with one hydraulic remote.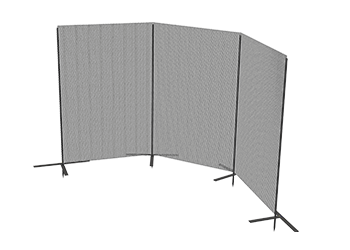 Debris Screen
10' wide by 5' tall
Includes 4 posts with integrated ground spikes
Used in areas where debris from the stump grinder needs to be contained